A full service Architecture firm working with
individuals & developer teams,
creating homes and lifestyles that endure.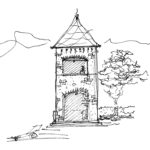 To create a distinctive form of a house where nature and nurture combine to foster spaces for one to grow and experience life with ease, tranquility and security.
Breaking from the routines of daily life, a retreat shall embody the essence of being away, to experience how life can be different; a house can be a place of amusement, leisure and revelation.
Taking cues from charming towns and villages, we cast the vision for new neighborhoods that create a sense of place, that are inviting and stylized to a chosen aesthetic.
As iconic components to meaningful neighborhoods, we design amenity structures and community gathering places such as clubhouses, swim, tennis & fitness facilities, and meeting halls.
"The design process begins with an intuitive connection between a vision and a pen in the hand."
∼Joshua Roland